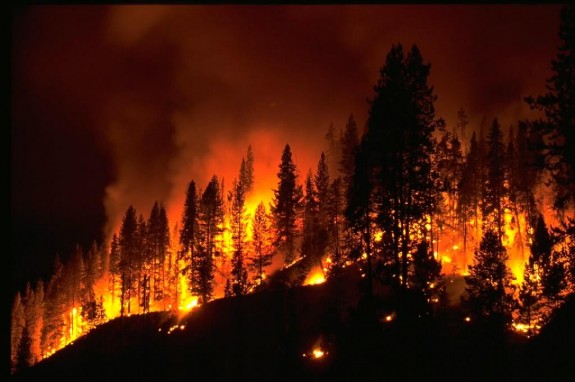 What's the big deal about burning?
Prescribed burning is a practice that has been around for centuries and is still widely practiced in the timber industry.  The Native Americans recognized its importance and practiced prescribed burning for agricultural purposes and wildlife management.   Prescribed burning can be very effective in increasing your timber stands value, but there's inherent risk involved.  Before you go lighting a match to your timber, it's important to be informed.
Why Prescribed Burning?
There are two main reasons why you would want to implement a burn program into your overall timber management plan.
Fuel Reduction
Remember the old saying, "Fight fire with fire?"  It sounds odd, but you can actually prevent an out of control forest fire with controlled burns.  The pine straw that falls to the ground in a timber stand makes perfect fire food, so to speak.   If that straw gets thick enough and combusts, it could provide enough kindling to make all your timber go up in flames with it.  If we limit the amount of fuel a fire has, then we limit the fires capacity to do massive damage.  The idea is to have a small controlled burn, rather than a raging forest fire.
Competition Reduction
Just like people and other animals, plants compete for things.  The things that plants compete for are nutrients and sunlight.  If your timber stand is constantly fighting young hardwoods and other unwanted plants for these, the health of your timber will suffer.  Hence, so will your ROI (return on investment).  Prescribed burning can eliminate any unwanted hardwoods and brush, which might take away from the nutrients and sunlight which your timber depends on.
The Other Perks of Burning
While we burn primarily for the benefit of timber, it's also beneficial for wildlife.  A thick bed of pine straw can provide fuel for an out of control forest fire, and it also acts as a deterrent for young plants just as it does in your yard.  These young plants make great food for wildlife.  Eliminating pine straw and brush provides optimal growing conditions for both timber and these plants, which aren't substantial enough to create competition with your pines.
Prescribed Burning and Hardwoods
Many people inquire as to whether or not they should burn their hardwood timber.  The answer is an emphatic no!  Pines have much thicker bark than hardwoods, which serves to protect them from hot temperatures during a burn.  Burning a stand of hardwoods can cause damage to the timber, which will decrease your timber's value.  You're better off to control competition through other means, such as spraying, that risking damage to your timber.
What to do before you burn
Before you burn, you need to apply for any necessary permits.  For Alabama residents, this means contacting the Alabama Forestry Commission.  You can apply for a burning permit online.  You can also contact the professionals at the Southern Land Brokers for a consultation, and they'll be happy to assist you in you're the development and implementation burn program.  Whatever you do, be responsible in your burning!
Check out our timber tract listings!