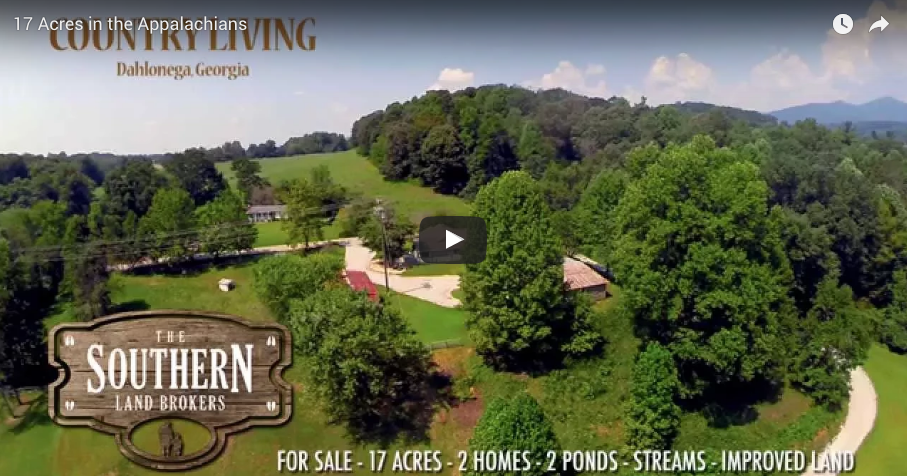 July '16 Land Notice
1.17 Acre Dahlonega Georgia Tract
Nestled in the Blue Ridge Mountains is this beautiful 2-home Dahlonega estate. This custom home, built in 2003 offers an open floor plan and full basement with a view of the Appalachian Mountains that Dahlonega is so well-known for. With custom kitchen cabinets, vaulted ceilings, hardwood floors and an entertainment room complete with a 3D HD projector, this home is one of a kind.
Also on the property is a farm home that dates back to the early 1900s. The character of the old farm house has been maintained even though the home itself has been completely modernized. This structure could be used as a guest home or rental income for the property.
The true-to-farm feel means that this property also comes equipped with a 6-bay horse barn with a track room that is ready to be filled. The property also features two ponds, a creek and natural springs throughout.
Are you thinking "that sounds fantastic, but I have no farm equipment with which to maintain the property"? No worries, we have got you covered. This property comes with a 2007 Kubota 4×4 tractor with front-end loader, grader blade, auger, Bush Hog, 2011 Kubota all-wheel drive riding lawnmower, DR walk behind brush cutter, 60 inch pull behind Swisher mower and hydraulic log splitter.
This lakefront property has remained untouched for over 60 years. This property is a fantastic investment, as the entire property contains hardwood trees. The property also features over 800 feet of water-frontage. With 320 feet on the lake, and 550 feet on a cove that borders the property, there is plenty of water access. This property is also set to feature several home sites with waterfront access.3.
Line Creek Hardwood Tract
This is a multi-benefit property. A close proximity to downtown Montgomery, development for hunting and a road system that runs through the property, all while housing approximately 260 acres of hardwood and 3500 feet of frontage on Line Creek. This property is the picture of recreational property with income opportunity and a land owners dream. Don't want all 325 acres? The owner is willing to divide.
Romulus is 15 miles west of Tuscaloosa, and is where this property sits. With pine and hardwood left for regeneration after a timber cut several years ago, this makes for a great investment property. This property has road frontage on Sipsy Valley Road and Romulus Road with George Hardin Road dividing the parcel. Not interested in the timber investment this property has to offer? There is plenty of developmental potential on this tract as well.
5. Henry Co. Shorterville Tract
Just 2 miles from Lake Eufaula, this property would make for great hunting and timber development land. The landscape of the property would allow for hardwood harvest in wet weather which means higher prices! Whether you are looking for great land to hunt or a great return on an investment property, check out the Shorterville Tract.